The Unending Attraction of Nature, 1970/71
In Max Peintner's pencil drawing "The Unending Attraction of Nature" (1970/71), the threat to nature is not didactically conveyed with a moralizing undertone, but rather with a figure of thought: What if the forest became nothing more than an item on display! With this fictional idea, the artist was way ahead of his time, as discussions about forest dieback only started in the 1980's. His first futuristic drawings appeared under the name "Contributions to the Future. Critics of Technology and Civilisation under the Guise of Utopia".
By juxtaposing the intimacy of the forest confined to the stadium with the hyper-industrialised dystopia beyond it, Peintner's work anticipates a world in which nature has become a footnote to the progress of a civilisation based on machines.
Peintner interpreted his landscapes as dream-like visions, and the prophetic nature of the picture is now felt keenly in the present day as civilisation attempts to redress its destructive relationship with nature. Little wonder then that the visionary expressiveness of the image has seen the artwork used in more than 20 German school and textbooks, as well as in publications in France, Denmark, Estonia, Czech Republic and Hungary.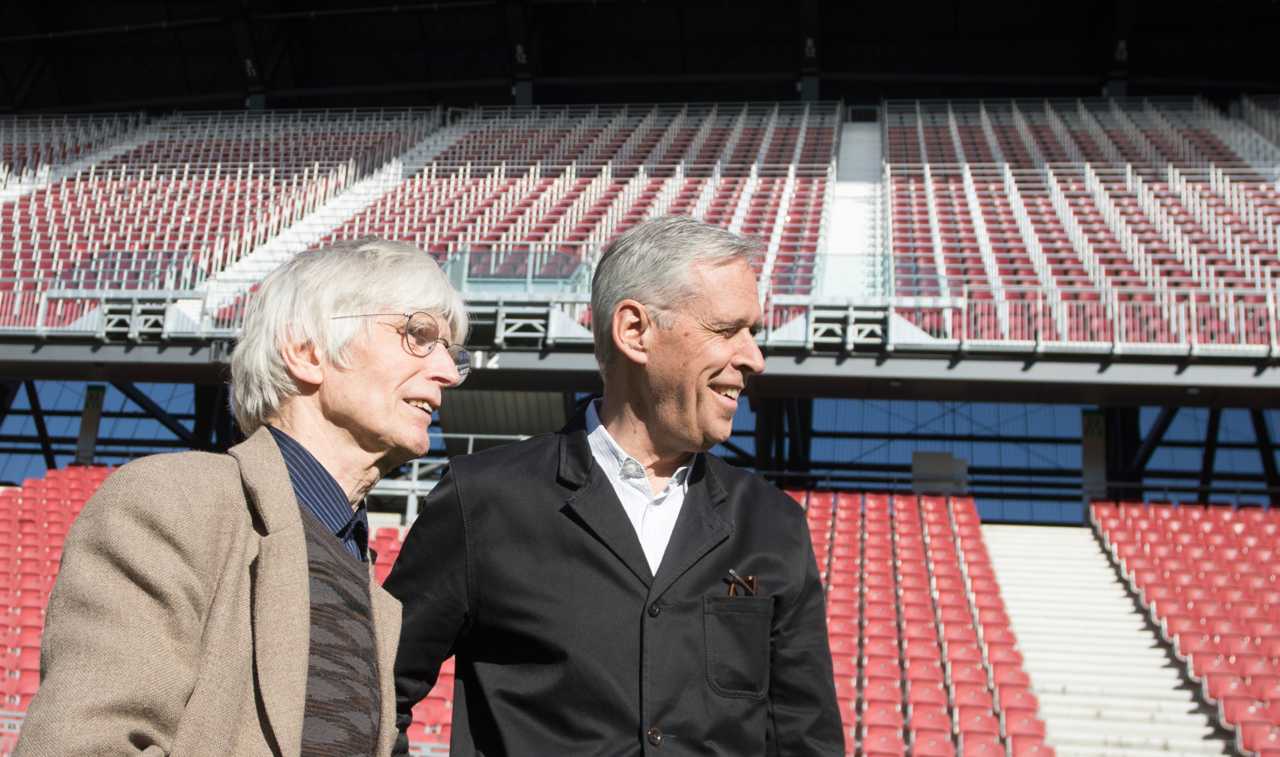 About Max Peintner (*1937)
Max Peintner studied civil engineering at the Technical College of Vienna as well as architecture at the Academy of Fine Arts in Vienna
In 1964 he published together with Heinz Geretsegger the monography «Otto Wagner 1841–1918, unbegrenzte Großstadt, Beginn der modernen Architektur» (Residenz Verlag)
In 1969 he published his first drawings with the title "Contributions to the Future. Critics of Technology and Civilisation under the Guise of Utopia"
In 1972 some of Peintner's works were exposed in the art gallery of Baden-Baden
In 1977 the documenta 6 showed some of his works
In 1986 he represented Austria at the Biennale di Venezia together with Karl Pranti
Peintner's works have been shown in different solo and group exhibitions such as in the Staatsgalerie Stuttgart (1982), in the Rupertinum in Salzburg (1985/1986), in the Museion in Bozen (1989) and in the Ludwig Kortárs Múvészeti Múzeum in Budapest (1996/1997).

The Neue Galerie in Graz dedicated a retrospective to him in 2000. One of Peintner's pencil drawings from 1974 is in the collection of the Museum of Modern Arts in New York.
Max Peintner lives and works in Vienna.
kunstaspekte.art/person/max-peintner
georgkargl.com/max-peintner