The silver fir is also going to make its grand appearance in the Klagenfurt Wörthersee Stadium in September and October 2019. Hand-picked by famous landscape architect Enzo Enea, the trees will find their place amongst more than 290 others, as part of the authentic forest created by "FOR FOREST - The Unending Attraction of Nature" by Klaus Littmann. The silver fir is a rather vulnerable tree, and is thus somewhat endangered, especially in Austria. In the Middle Ages, it was a widely used medicinal plant, but nowadays it is mostly commonly seen decorated with baubles and lights, at Christmas time.
Tall Conifer
The silver fir is a European coniferous tree, belonging to the Genus of firs (Abies) in the pine family (Pinaceae). It gets its name from its light grey bark, especially noticeable when compared to the Norway spruce (Picea abies). The species can live for up to 500 or 600 years and can grow to heights of 30 to 50 metres, in some cases even reaching 65 metres. In Austria, the silver fir makes up 2.4% of the total forest area, and is classified as "vulnerable" on the IUCN conservation status listing.
Vulnerable Tree
Of all trees native to Austria, the silver fir is most susceptible to pollutants, as well as being affected by many pests. It is especially sensitive to sulphur dioxide pollution. For these reasons, the silver fir population has declined drastically over the last 200 years. The main contributing issues have been pests introduced from other regions, such as Dreyfusia nordmannianae, which came from Caucasia, as well as damage caused by deer, and economic factors such as clearcutting, overuse and the preferential planting of spruce in silviculture.
Perfect Christmas Tree
Silver firs are widely used as Christmas trees. However, the most popular tree species used for Christmas trees varies regionally.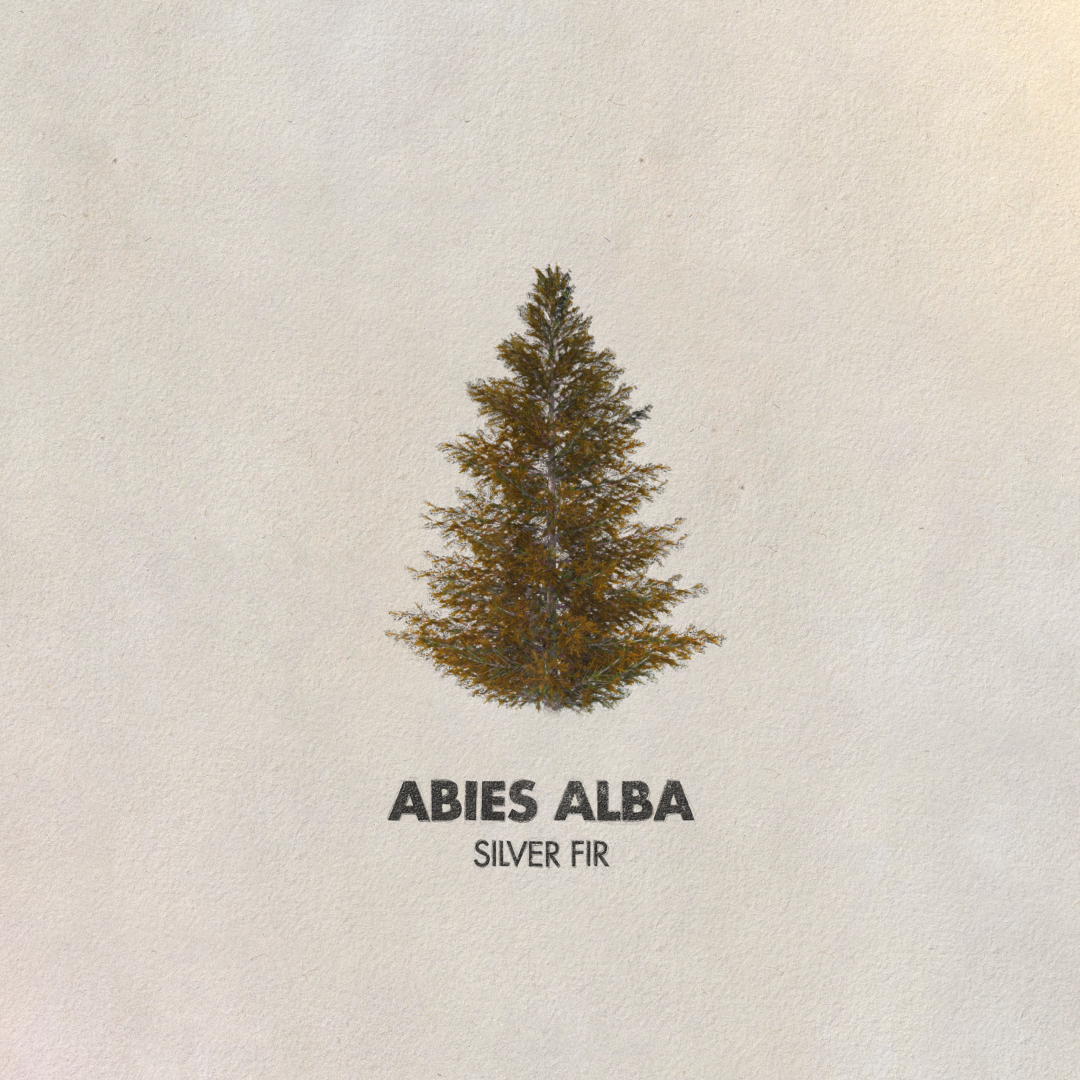 Medicinal Plant in Medieval Times
Since ancient times, the silver fir has been used medicinally. It was considered a symbol of strength in medieval herbal medicine. Its resin was used to accelerate wound healing, and to treat rheumatism. It was said to improve blood circulation, and chewing the resin was supposed to strengthen the gums and prevent tooth decay. Infusions made with the young shoots were administered in the 16th and 17th centuries against scurvy. Sebastian Kneipp recommended pine tea to patients with a cough, in order to promote phlegm and to strengthen the lungs. Templin oil was obtained from the pine cones using steam distillation, and was used externally for conjunctivitis, bruising, pulled muscles and aches.
Fact Sheet: Silver Fir, Abies alba
🇮🇹 Abete bianco
🇫🇷 Sapin blanc
Plant group: Woody plant / shrub
Subgroup: Conifers
Family: Pinaceae
Native to: CH, DE, AT
Originates in: Europe, North Africa
Habitus: large tree, even crown, blunt cone shape
Height: 30.00 - 50.00 m
Inside / outside: perennial outdoors
Flower: green / greenish
Flowering period: May to June
Fruit colour: brown / beige / grey
Fruit season: September to October
Scion / trunk: brown / grey
Leaf shape: needles, two white stripes on the lower surface
Leaf margin: entire
Leaf arrangement: single needle
Foliage: evergreen